Cheese Of The Month Subscriptions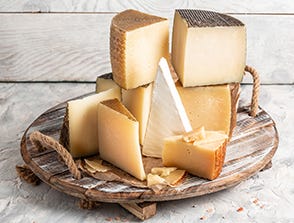 How Does It Work?:
Love cheese? Excited to learn about new and interesting cheeses from around the world? Know a foodie whose eyes would light up for a monthly box of goodies? Our Cheese of the Month subscription boxes are just the thing! With 3, 6, or 12 month options, our subscriptions can meet any appetite.
How Do I Sign Up?
1. Choose a collection.
2. Select the length of your subscription: either 3, 6, or 12 months.
3. Enter the shipping information of yourself or your gift recipient.
4. Place your order.
5. Receive your first box and enjoy!
Subscription FAQs:
Are all months included in the price?
Yes, the price is for the total subscription amount.
Is shipping included in the price?
Yes, the price includes shipping and handling for all shipments.
When does my first shipment go out?
The first month's box will ship on the next standard shipping day after you place your order.
When can I expect my box each month?
The next month's box, and every subsequent month of your subscription will ship in the second week of the month. You will receive an email notifying you of the shipment.
How do I know what's in each box?
It's a surprise! Each month's contents will be unique, and come with a menu explaining each item.
Can I request specific items to be included or excluded?
Our experienced cheesemongers carefully build each box of flavors to work harmoniously together. We do not offer substitutions.
More questions? Feel free to Contact Us.